We've been super busy here at Trigger and are excited to share 5 new features to help you enjoy Trigger's time tracking and project management app even more!
New Features:
1. Move a Task Update
Ever entered a Task update in the wrong Task?
Great news… now, you don't have to retype it from scratch.
Just go to the incorrect Task update…
And click on the new ">" icon at the top right of the Task update:

That will prompt a pop-up box, from which you can choose the correct Company, Project and Task (from a dropdown list) to move it too.
Simple!
2. Copy a Project
Ever wanted to copy an existing Project without (creating a Project Template or) retyping everything?
Now you can.
Just go to your Projects list and click on the clipboard icon for the original Project.

That will prompt Trigger to ask you to choose (from a dropdown list) which Company to copy the Project to.
Then, like magic, your Project (including set-up information, Tasks and Milestones) will be copied!
Want to see it in a video? Watch our Copy Project video here.
3. Auto-Close Recurring Tasks (Optional)
Ever wished you didn't have to manually close previous Task periods?
Then you'll love this…
If you'd like Trigger to close previous Task periods for you, just tick Auto-close previous periods inside the relevant Task.
Piece of cake!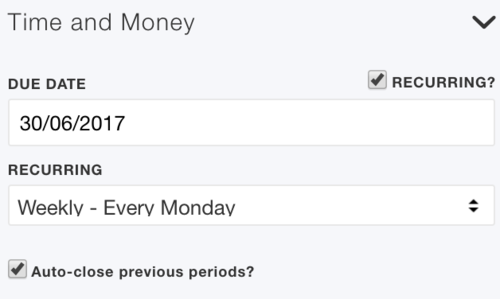 4. Progress for Non-Billable Hours
Ever been curious how your non-billable Projects are tracking?
We've made that easier too.
Now, on your Projects list…
Non-billable Projects will have the same red/green progress graphs (for target hours versus logged hours) as billable Projects.
Plus… we've added a new Billable column to your Projects list, so you can quickly identify which Projects are (and are not) billable.
5. Retainer History
Ever wanted to see previous periods for a Retainer?
Solved.
Jump over to your Projects list…
And click on the eye icon next to the relevant Retainer: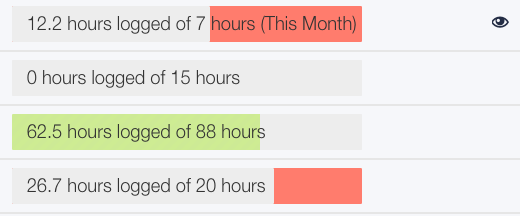 A handy pop-up will then appear with the Retainer's history, like this: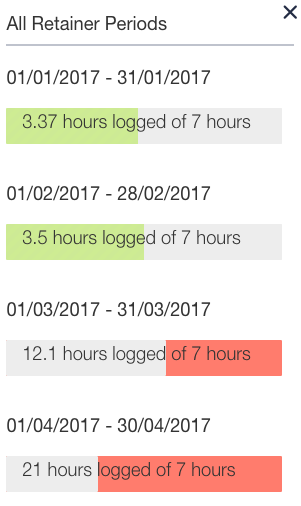 Bonus news for software developers
If you're a software developer, you'll also be happy to know that we've improved our Markdown capability in Task updates…
Improved Code Block in Markdown
Previously, if you put a code block in a Task update in Trigger, it would transform in Markdown…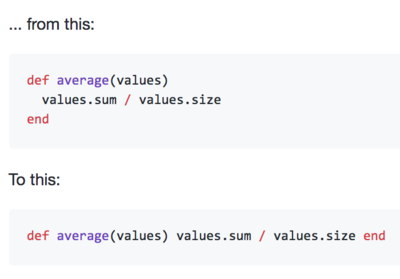 But, based on your feedback, we've improved Trigger so that code blocks now retain their original integrity in Trigger.
Woohoo!
Thank You
Thanks for these new feature suggestions go to:
Got an awesome idea of your own? Reach out here.
Thanks for supporting Trigger!
Click here to refer Trigger and earn a 20% lifetime commission.