Use Slack in your workplace?
If you do, you'll be pleased to know that our Trigger-to-Slack integration is now live! Click here to set it up for your team.
If you don't, we invite you to click here to read why we love Slack as a workplace productivity app and why you might love it too.
Slack Integration Q&As
What is Slack?
Slack is a real-time, cloud-based, messaging and collaboration platform that works well for both in-office and remote teams.
What is the benefit of a Slack integration?
When you integrate Slack with your favourite workplace apps, Slack can receive (and group) real-time notifications (from those apps) into one central, notification centre.
If we set up the Trigger-to-Slack integration, what will we see?
1. Trigger activity from your Company and Project pages will feed into your nominated Slack channel, in this format:

2. Trigger @mentions will feed into your "Slackbot" Direct Message channel (for team members who have entered their Slack Username in their My Settings page in Trigger) in this format: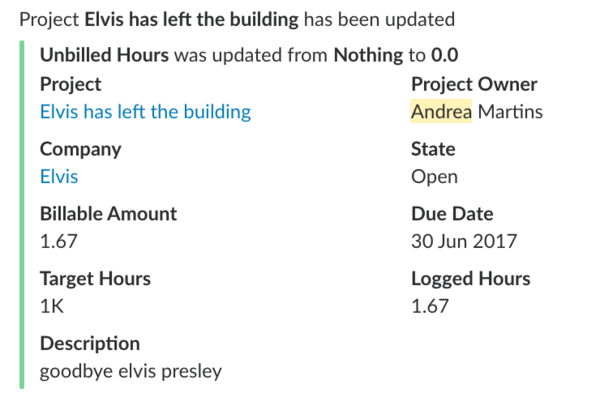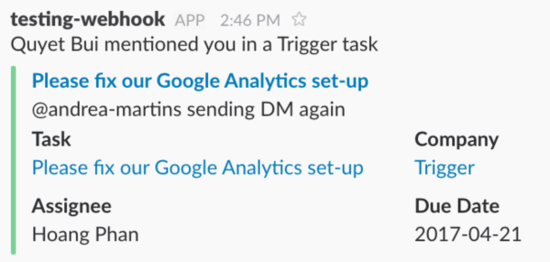 3. Optional extra… (if you have set up Slack in your individual Project pages as well) Task activities will feed into your nominated Slack channel(s) in this format: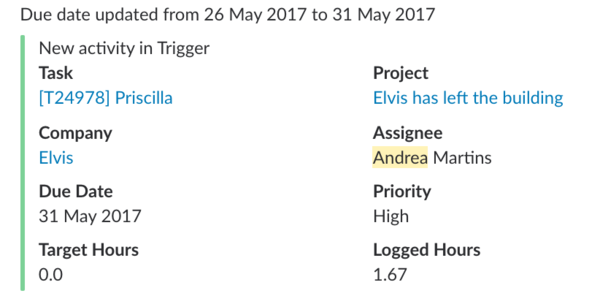 What does Slack cost?
Slack offers both free and paid versions.
Does Trigger take a commission from Slack?
No. We just love promoting tools that we believe in.
Already use Slack and want to set up an integration?
Click here to set it up for your team.
Don't use Slack yet but want to read more about it?
See our 7 Top Reasons We Love Slack.
Thanks
Thanks go to our customer Ash Thompson from Outfit (an enterprise brand automation platform) in Brisbane, Australia, for encouraging us to integrate Slack with Trigger.
Got your own awesome suggestion? We'd love to hear from you here.
Have a great day/evening.